After I graduated, I planned a 45 day around Europe with 4-6 of my friends, depending on the day, visiting 5 countries. We left Canada on April 25, and returned on June 9. Our first stop was in Portugal, where we visited Lisbon and Sintra, the Algarve, and Porto over 5 days. We flew TAP from Toronto, an overnight flight that arrived around noon in Lisbon.
Sadly, about two weeks through the trip, my memory card died. Luckily, I had been backing everything up to Google Photos every night, so no images were lost, but some of the quality was lost. I'm not going to bother trying to get my memory card recovered because it's really expensive, and I still have the images so it's not the end of the world. I think moving forward though, I'm going to make sure I fully back up everything in full quality to the cloud, even if it's slow and takes up space.
Lisbon
When we arrived in Lisbon, we were exhausted from our (slightly delayed) overnight flight, but it was only noon, so we had a full day ahead of us! Lisbon was a lot warmer than when we left Canada, the weather was beautiful, hot, and sunny when we arrived. We took the metro to the city centre, and then walked to our Airbnb, which was tiring in the heat and with our backpacks, especially as Lisbon is also called the city of 7 hills! Our Airbnb was also on the top floor (4 floors), but it had a lovely balcony with a great view of the city.
After settling in, we went to find some food. We found a nice seafood place close to our Airbnb, called Carmo. They have seating outside, although it was quite full, and a set price lunch menu. One of my friends ordered a tuna steak and I had a bite, it was really tasty, I would really recommend getting that if you like tuna and are in Lisbon! Afterwards, we walked around the city a little. As I had been to Lisbon before, I was sort of a tour guide! We went the Elevador Santa Justa, if you access it from behind the Carmo Convent, you can walk up the stairs for a cheaper fee, rather than waiting in line and taking the elevator from the bottom, which is more expensive. From the top of the elevator, there is a really nice 360 degree view of the city.
Portugal is famous for it's custard tarts, called pasteis de nata, so of course we had to get some. We got some from Manteigaria, which was pointed out to me on a walking tour when I was in Lisbon a couple years ago. You can see them making the custard tarts inside, which is cool, and of course the custard tarts were as delicious as I remembered! We wandered around the city for a bit and then headed towards the river, and sat at Praça do Comércio. In the plaza, you can also go up the big Arco da Rua Augusta for a fee, which I had done before, but I think the view from the elevator is nicer!


In the evening, for dinner, we went to Frangasqueira Nacional, to have their grilled meats including chicken with piri piri sauce! This place was recommended to me by someone I met in Lisbon a couple years ago, and I never got the chance to go. I'm really glad I finally got to go though, the food was amazing! The place itself is kind of small, and there is definitely a wait, even though the place wasn't busy. The wait took a while because they only start grilling your food when you order it, and obviously it takes a while for a half chicken to cook. We went pretty early in the evening, whereas dinner time in Portugal is later, around 8:30/9pm. Since the place was so small, we did takeout, and we got so much food for around 50 euros for 5 people, including chips, salad, and some small beers! Included in our meats were grilled chicken, different types of sausages, ribs, and some skewers. Since we were exhausted, we went to bed pretty early, with some help from our food comas!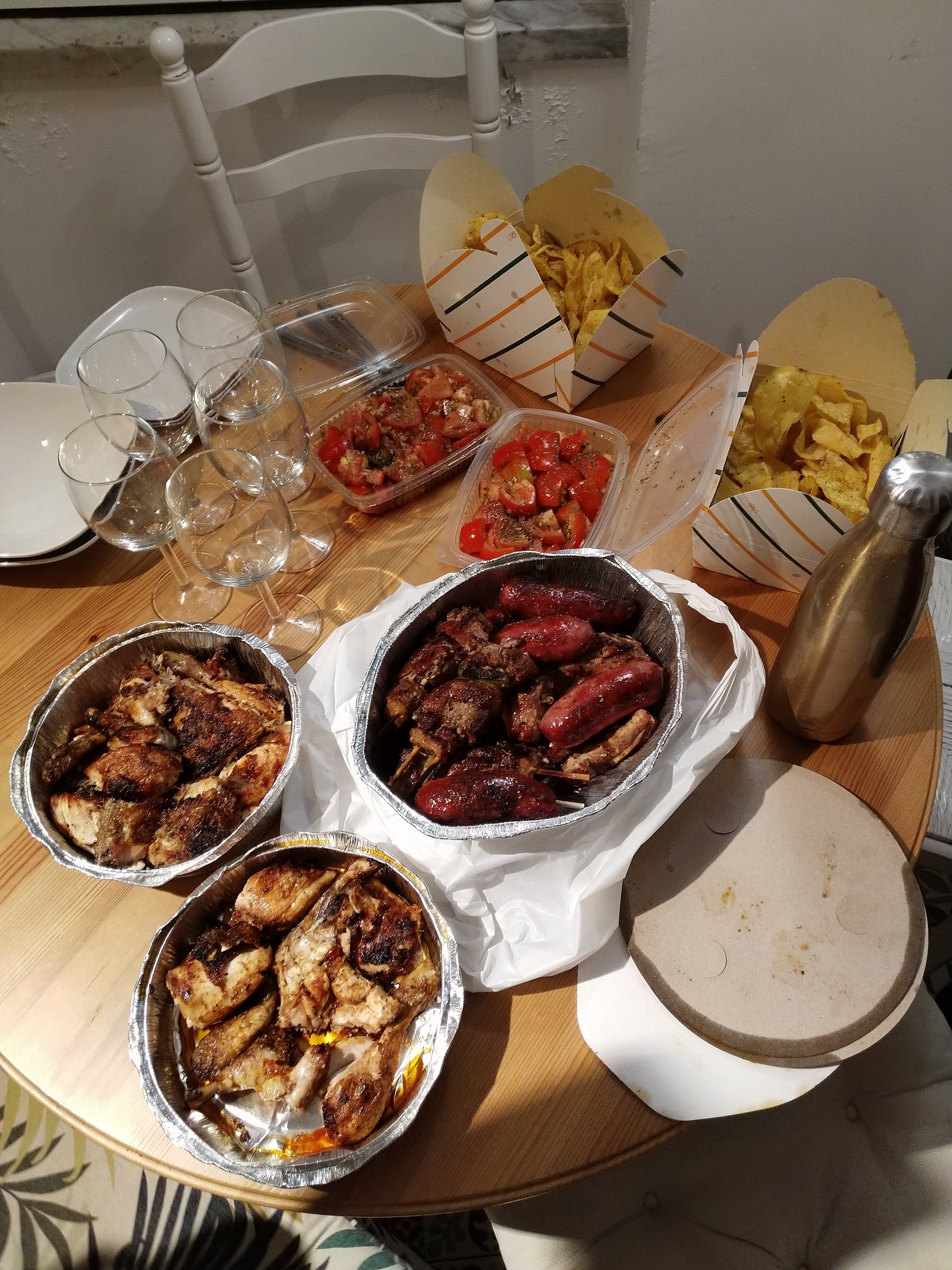 Sintra
The next day, we were up early to go to Sintra! Well, due to the jetlag, we were up early anyway. The day before, we had bought some groceries to make breakfast before we left to save some time and money. We took the train from Rossio station to Sintra, and then from there we walked to the central area of Sintra and picked up some sandwiches for lunch. Our first stop was Quinta da Regaleira, which is a UNESCO World Heritage Site, and a beautiful, very large grounds that have underground tunnels, towers, a palace, fountains, and wells. It's really fun exploring this place, as it's really large and the tunnel system is fun to wander through (even though there are spiders in there).
Unfortunately, the weather in Sintra wasn't that great, and it just got cloudier and cloudier. We took the tourist bus to our next stop, the Moorish castle, but it was completely enshrouded in fog, and we couldn't see anything unfortunately. We walked to Pena Palace from there, which was also covered in fog. There was a line to get into the palace, and then once inside, you were just following a line of people. It was quite unpleasant, as you were limited by the crowd's pace, and in combination with the rain, I was definitely a little grumpy.
Afterwards, we tried to take the tourist bus back to the train station. However, there was a huge line waiting for the buses, and after standing for 20 minutes without a single bus coming, we decided to just walk. At least since we were walking back down to the town, it was down hill instead of uphill, because by now we were definitely very tired as well as jetlagged.
Unfortunately, the weather was not in our favour our day trip to Sintra, but it was still nice to see. Quinta da Regaleria was definitely the highlight, as it was when I came a couple years ago. That place is just so large and there's so much to see. I had wanted to go out to Cabo da Roca to watch the sunset, but honestly we were all just too tired to go, and instead headed back to Lisbon. In Lisbon, we went to a seafood restaurant called Cervejaria Ramiro, it's really popular and for good reason! We had clams, shrimp, and a delicious crab dish, where the roe of the crab was used to make a really nice sauce and with the legs on the side. I love crab meat so much, but it's such a pain to eat. It was a nice dinner to end a long, tiring day.
Back to Lisbon
On our last day in Lisbon before heading to Faro, we attempted to go to Castelo de Sao Jorge, the old Moorish castle that's perched on a hill in Lisbon. However, when we got there, there was a really long line so we decided to not waste our morning standing in line. Instead, we got some coffee by the Miradouro de Santa Luzia, which has a nice view of the city and the river but is often crowded. Afterwards, we headed to Belém, to get some more pasteis de nata from the most famous place, Pastéis de Belém. Their custard tarts are made from a secret receipe, and they also have other delicious pastries! Luckily, the line wasn't too long when we went, and we enjoyed our custard tarts sitting on a bench in the park nearby. Then we walked along the river to check out the monuments by the water. Two of my friends rented these sitting segway things, and they looked so silly on them as they went around the walkways and park.
The clouds and rain started rolling in shortly after, so we got some gelato and lunch before going to the train station to get to Faro!