Our final destination in Portugal before heading to Italy was in Porto! We arrived in Porto by plane, and took a cab to the airport. Something that we've noticed during our stay in Portugal and taking Ubers and cabs is that people drive crazily and really fast. Once we got to the Airbnb, we started looking for something to eat, and one thing that we wanted to try was francesinha, an odd signature dish of Porto. Francesinha is a sandwich that is stuffed with meat (steak and ham) and then covered with cheese and tomato sauce, and served with french fries. After looking on Google Maps, we decided to go to Cervejaria Brasão Aliados, as they had this famous dish, and other Portuguese dishes as well. Me and my friend split one dish of the francesinha, as well as another steak, and we all split some starters. However, when the francesinha came, by itself it was definitely enough for two people, as it was so heavy and rich. It was good, but I think that I only need to have it once in my life to experience it, and it's not something that I would have again.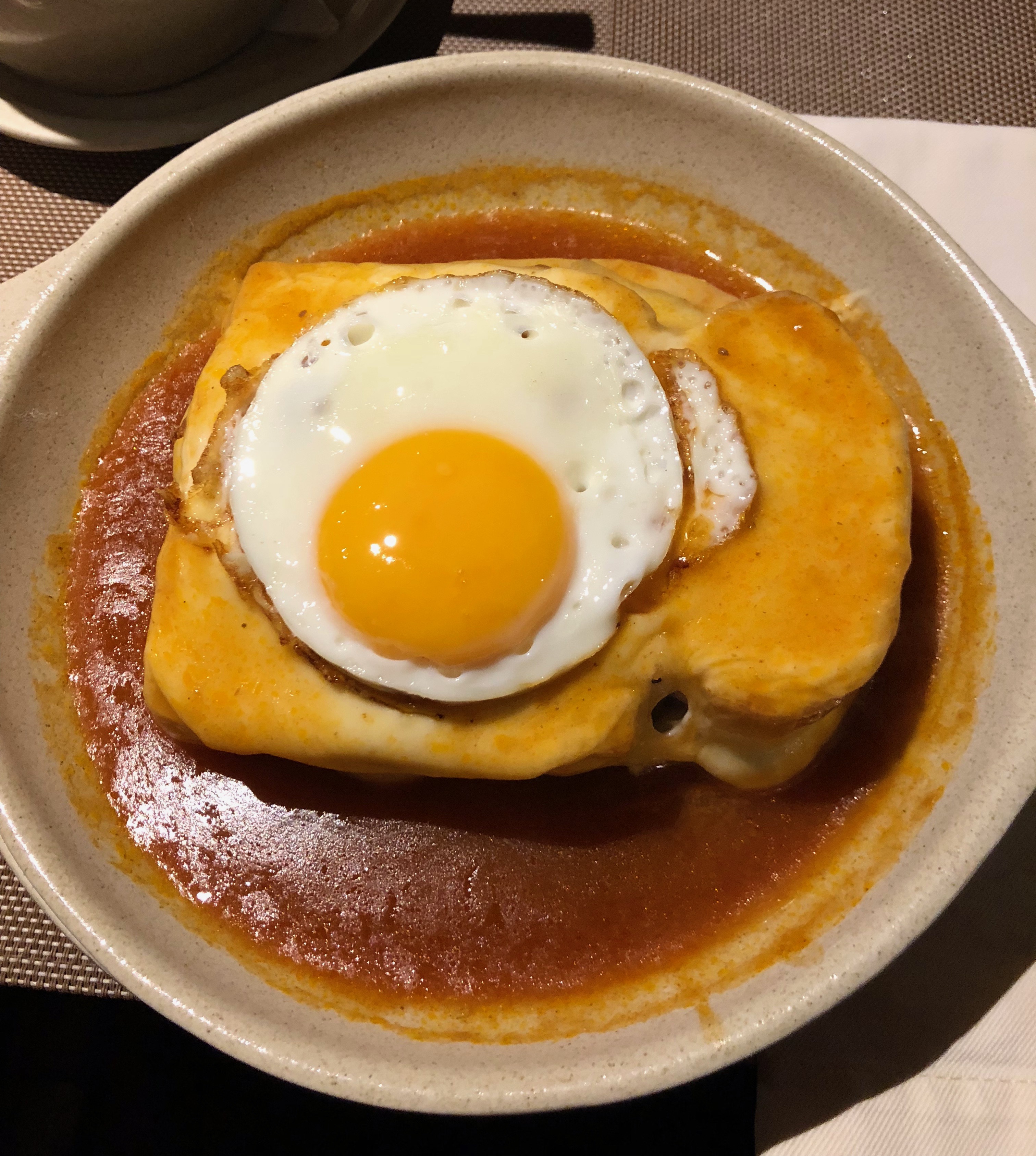 Exploring Porto
Unfortunately, when we woke up, we realized it was Labour day, a national holiday in Portugal, so everything would be closed. I was really sad because I really wanted to go into Livraria Lello, which is a famous book store that was a source of inspiration for J.K. Rowling when she was writing Harry Potter. It's also one of the oldest bookstores in Porto. Nonetheless, we walked around Porto and went to look at some of the pretty buildings that were covered in the pretty blue tiles that are typical of Portugal.
Afterwards, we headed to the Jardins Palacio de Cristal, where we spent some time exploring the beautiful grounds. The gardens overlook the Duoro river, and has a lot of beautiful flowers. This garden was also full of peacocks! We were able to get really close to them, they really weren't afraid of people at all.
Afterwards, we had lunch at Antiqvvm, a Michelin star restaurant right beside the gardens! You can read about it here!
On our way home, we ran into many Labour Day protestors marching through the streets. When we asked about it, every year on Labour Day, many public servants peacefully protest for better working conditions. Since a lot of tourist attractions were closed, we just headed home, bought some Port wine and hung out. Our flight was at 6am the next day so we would have to be up at 3 in the morning to head to the airport to catch our flight, thus we all tried to go to bed early. Porto is a really nice city, definitely really pretty, and some day I hope I can come back and check out that bookstore! The next day, we were leaving Portugal and heading to Italy for about two weeks!