On our 10th day in Europe, we were heading to Florence, but stopping in Pisa briefly along the way. Florence is one of my favourite cities that I've been to, and I was really looking forward to going again with my boyfriend, as it's a really nice and romantic city. The food in Florence is also amazing, and it's one of my favourite cities to just walk around and enjoy. When I was in Florence previously, I had visited the two famous art galleries, the Uffizi and the Accademia, so I didn't need to go again as someone who isn't really into art or art history. But even as someone who doesn't really understand art, I can appreciate that the city of Florence has so much history and culture in its art, and I can still enjoy it without really knowing all the details and meaning. I just love Florence so much, and will definitely go again in the future!
Pisa
From Monterosso, we took the train to Pisa, it was approximately 1.5 hours. We only had a couple hours to spend in Pisa, as we had to catch a train to Florence after. We were able to store our bags in the train station, and then we headed to the Leaning Tower which is around a 20 minute walk from the train station. The Leaning Tower is full of tourists taking pictures with the tower, and it's very entertaining. When I went a couple years ago, I took those funny pictures as well, but I didn't this time.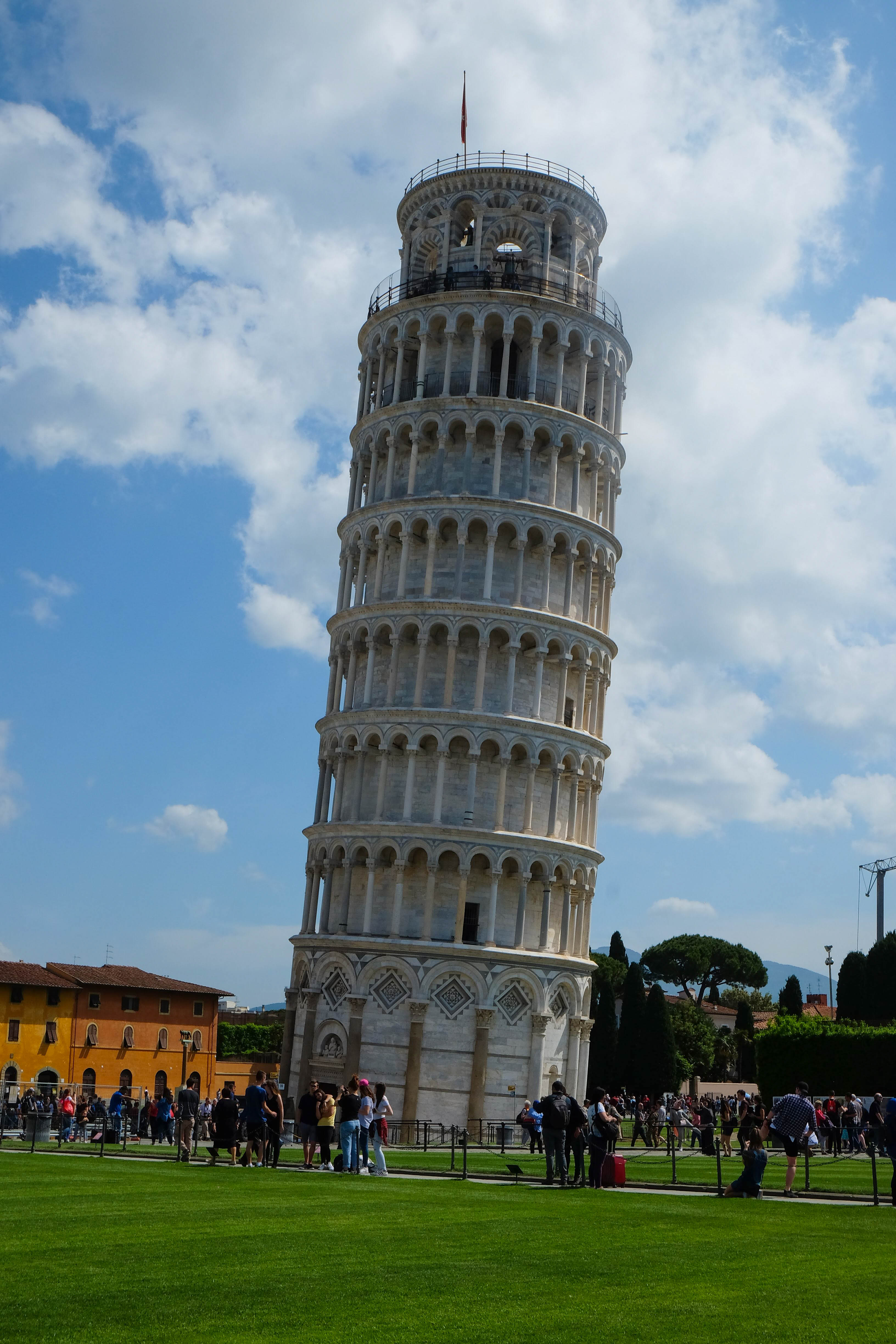 You can go up the tower but it's quite expensive, and there's a line. Since we were short on time, we decided not to. Instead, we decided to find some lunch in town before leaving to go to Florence. We had some pizza at a place called Pizzeria Il Montino, and it was really good! The reason that we were in a rush to go to Florence was because my friends had tickets to go see the Uffizi gallery, and this was the only day they could purchase tickets online for. If you don't buy tickets online, you have to wait in a really long line, or go early in the morning before it opens.
Florence
Since me and my boyfriend weren't in a rush, we took our time settling into our Airbnb, and got some coffee and gelato. There was a market going on in the square in front of the Basilica di Santa Croce, so we went there and bought some truffle butter, really nice salami, and delicious cheese to have as snacks and breakfast. As the sun was setting, we headed to the popular Piazzale Michelangelo spot to watch the sunset before dinner. Of course, the sunset was absolutely gorgeous! The sunset over Florence was when I fell in love with Florence the first time, and it was just as romantic and beautiful as before. The Piazzale Michelangelo was quite crowded though, and I recommend going early to get a nice spot to actually watch, instead of being behind someone.

Afterward, we had a really lovely candlelit dinner at Ristorante Il Paiolo. We started off with carbonara, and then we had a delicious Florentine steak. Florence is famous for its T-bone steak, and there are a lot of restaurants around Florence that serve this. The steak was massive, it was more than 1kg! It was also very rare, a little too rare for my liking, but they were nice enough to take it back to grill for a little more. Otherwise, it was really delicious! There was so much meat we couldn't finish the steak, but of course, I still had room in my separate dessert stomach for tiramisu. It was a really great meal, and a great place to try the Florentine steak. The service we had was also amazing, the servers were really attentive and funny, and also at the end we were given some house-made limoncello to take home with us.
When I woke up the next day, I was covered in mosquito bites! I think I had gotten them the previous night when we were out watching the sunset, or at dinner time where we were close to the open door and windows. They were so itchy and swelled up too, since I generally don't react very well to mosquito bites. Fortunately, I realized that Benadryl helps reduce the itching, even though it makes me super drowsy.
Our plan for today was to just walk around and explore the city. Again, Florence is just so beautiful, and the architecture in the city is just amazing! The big cathedral in Florence is absolutely spectacular. When it was built, it was the biggest dome in the world. You can actually go up to the top of the dome, and the bell tower as well, which we had tickets to do the next day. Unfortunately, we left our ticket buying for too late, and all the times for the top of the dome were booked, but we could still go to the top of the bell tower, and the rest of the Duomo buildings.
In the afternoon, we went to Biboli gardens. For some reason that I can't remember, admission was free that day, which was really nice. The gardens are beautiful, and have a great view of the city. We also had a little nap on one of the lawns, because other people were as well, but then we got kicked off the lawn by some grumpy man who clearly wasn't doing his job very well. Nonetheless, exploring the gardens was really nice, even though it was very hot under the sun.

In the evening, we had reservations at Trattoria Dall'Oste, another place that is well-known for its Florentine steak! However, me and my boyfriend were steaked-out from dinner last night, so instead we had pasta and charcuterie. However, I did taste some of the steak, and it was really nice! It also comes with different sauces to go with the steak.
The next day, in the morning, we went to visit the Duomo! Our first stop was going up the bell tower, which is just a bunch of stairs in a narrow staircase, would not recommend if you're claustrophobic! From the top of the bell tower, there's a nice view of the dome, but it's covered in a fence, I guess to prevent people from jumping. Strangely, the top of the dome doesn't have a fence, even though it's higher up. Afterwards, we went to go see the inside of the Duomo. Even though we were there before it opened, there was a huge line to go inside that wrapped all the way around the huge cathedral. We stood in it anyway, and I think it was worth it (probably because I had mostly been avoiding going into too many churches this time around). The inside of the cathedral is massive, with really high ceilings and beautiful stained glass and paintings. Below the church, there is an exhibit about what was previously under the Duomo with old ruins, which is pretty cool.
Afterwards, we had lunch from All'Antico Vinaio, which serves huge and delicious sandwiches for just 5 euros! Sometimes there can be a long line, but I think it's worth it. We then went to check out the Galileo museum. When we went, the sky was blue and it was really hot and humid outside. At one point in the museum, we looked out the window, and it was storming like mad! There was a huge downpour and occasionaly some hail. Luckily by the time we were done with the museum, the rain died down, and we were able to run home for a nice nap, thanks to that Benadryl.
Afterwards, we went to check out the sunset at a different spot, a little bit past Piazzale Michelangelo in front of the Abbazia di San Miniato al Monte. There is a plaza and steps overlooking a cemetery with a nice view of Florence that is a lot less crowded than Piazzale Michelangelo. We sat on the steps to watch the sunset, and took some nice pictures as well!
Afterwards, we had dinner at La Buchetta, which is highly rated on Google maps. They also serve Florentine steak, however by now we were all steaked out. Unfortunately, although the food was nice, we found the service to be sub-par, likely because we weren't spending tons of money on steaks like other guests. This sort of ruined the experience, even though the food was good.
This was our last night in Florence, and sadly also my last night with my boyfriend before he flew back to Sweden to finish up his school term. The next morning he would fly out, and we would take the train to the Campania region on the next part of our trip. My second time in Florence was even more wonderful than the first, and I can't wait until the next time I am back.