Our next stop after Florence was Campania, where we would check out the Amalfi Coast, Pompeii, and Naples. For our trip to the Amalfi Coast, we were staying in Sorrento, which is just a little bit outside of the Amalfi Coast. From Florence, we took a train to Naples, which takes about 3 hours, and then from there we took the local train (the Circumvesuviana) to Sorrento, which is another 1 hour. The train is usually quite crowded as well, and we had to stand for some of the way on the hot train squished against other people with our big bags. The 12th day of our trip was mostly a travel day, with the morning spent in Florence, and making it to Sorrento for dinner. Luckily for us, it was a rainy day so we did not miss out on much.
Speaking of weather, we noticed that our weather apps were not very accurate in predicting European weather, perhaps made even worse from the proximity of the sea. The next day, we were planning to hike the Path of the Gods, but we were getting different results from different weather apps, so we made a back-up plan to hang out in Sorrento if the weather was bad, and decided to make up our minds when we woke up.
Path of the Gods
When we woke up, we were lucky to find that the weather was looking good for the day! We had a little bit of a late start since we all kind of slept in a little, but we eventually started making our way to the beginning of the hike, which is a trek in itself. First, we made our way to the train station in Sorrento, where we would have to take a bus to Amalfi. Then from Amalfi, we would have to take the bus that goes to Agerola, and get off in Bomerano, which is where the hike starts.
We couldn't buy bus tickets online or anything, we had to buy them at the train station. We bought a ticket that would be valid for the whole day, since we were going to be taking at least three buses. Afterwards, we went to the bus that goes to Amalfi, but there was quite a long line on the bus so we had to wait 30min for the next one to come, according to the bus schedule. I think that they send more buses when it's busy though, because we only had to wait around 15min before a bus came, and we were lucky to get a seat as the bus trip to Amalfi was almost an hour long, with many people standing on the bus. The bus ride was really windy, and I actually got a little carsick because it was so jerky and there were so many sharp turns. When we got there, we lucky to catch the Agerola bus just in time, and it took another 40 minutes to get to Bomerano. All-in-all, it tooks us around 2.5 hours from our Airbnb to the start of the hike. In Bomerano, by the start of the path, we got some coffee and snacks before starting the hike.
The Path of the Gods is around 7km, and it took us around 3 hours to complete, with rests. The elevation is quite high at the start of the hike, and the hike is relatively flat, with some ups and downs, but gradually decreasing in elevation until Nocelle, the end of the hike. As the elevation was high, for the first part of our hike, we were in a cloud, even though in Amalfi, the skies looked extremely blue, but with the tops of the hills shrouded in cloud. However, we would occasionally catch glimpses of the blue water below us twinkling from the sun, which made us realize how high up we were. However, maybe about an hour into the hike, the clouds were no longer in our way and we had beautiful views of the sea and cliffs, and the towns down below. We took a break when we arrived in Nocelle, and from there it is a LOT of steps down to Positano. I believe that there is also an option to take a bus, but we walked it and I think that was actually the most exhausting part of the 'hike', continuously walking down stairs for seemingly forever.
When we finally arrived in Positano, we caught a bus back to Sorrento. Luckily this time, it was just one bus that went directly to Sorrento, and actually dropped us off right by our Airbnb. We had dinner at Ristorante O'Murzill. We had tried to go here the previous night, but unfortunately they were full, so we made a reservation for the next day. The food here was delicious, priced very reasonably, and the waitress was so friendly and nice, joking with us all the time. Because of her, the experience was outstanding, on top of the great food. Also, the tiramisu was great!
Pompeii
The next day, we were going to Naples for a night before our flight out the next day, and our plan was to stop at Pompeii to check it out. We took the Circumvesuviana to Pompeii, and by the ticket offices they have free bag storage, since large bags aren't allowed in the grounds. The Pompeii site is so large, and it's really cool how so much of it was preserved. We rented audio guides in order to give us a little more history about the site, especially because I really don't know that much history, so it was nice to have instead of aimlessly wandering around and staring at the ruins without having any background information. The history of Pompeii is really interesting, a long long time ago in 79 AD, Mount Vesuvius erupted and completely buried the town of Pompeii in more than 4m of volcanic ash. It was then lost and only rediscovered in 1599, the city was basically lost and forgotten about over the years. Because the city was buried, many structures managed to be preserved. It's so difficult to fathom an entire city to be buried, and the Pompeii ruins that have been excavated and opened to the public are massive. Over a couple hours, I definitely didn't come close to seeing everything, but was too tired from walking around in the sun to continue, and we had a train to catch to Naples.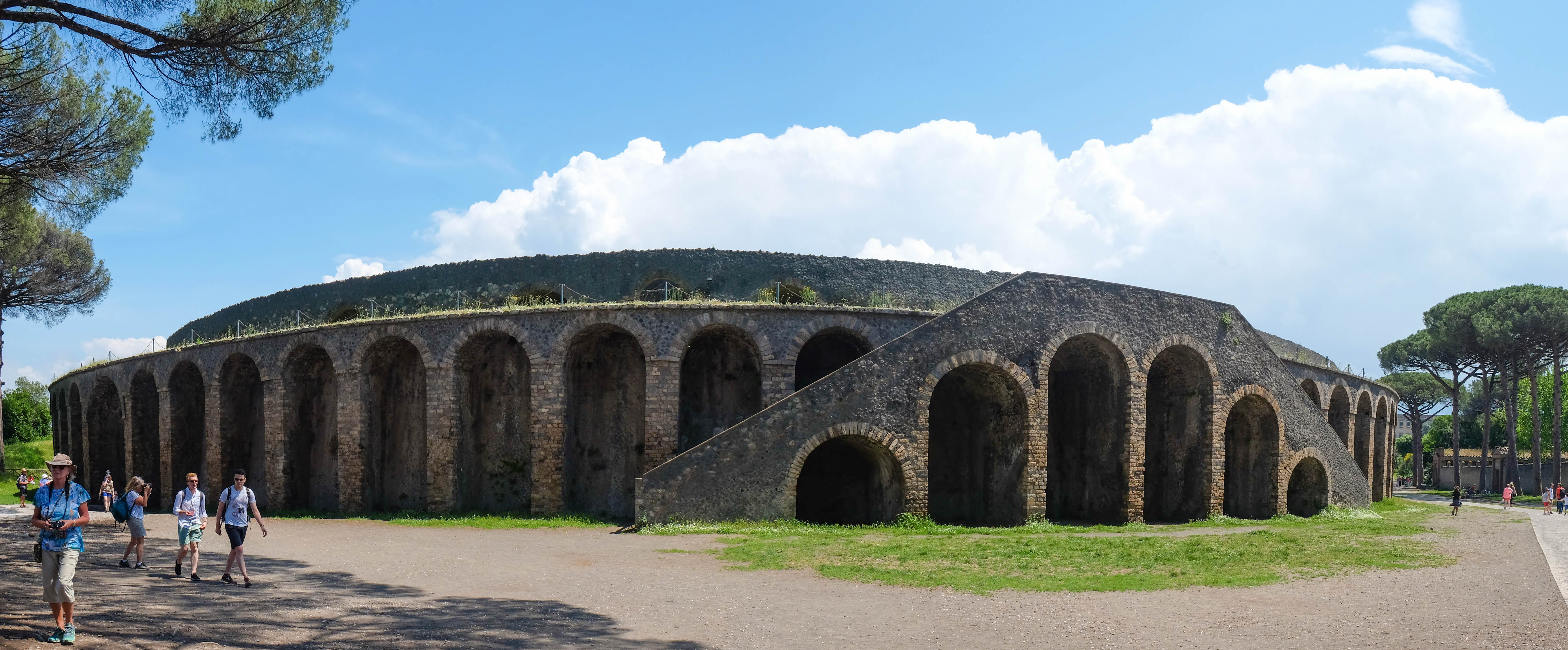 Naples
When we arrived in Naples, the first thing we did was eat some pizza, as the Naples region is where Neapolitan pizza originates from. We went to a small, rundown looking place called Pizzeria Fortuna, at least from the front, but the pizzas were really cheap and tasty. The menu was all in Italian, so I just picked one with some words that I recognized, and I ended up with a pizza with lots of artichokes, which was a pleasant surprise and really really good.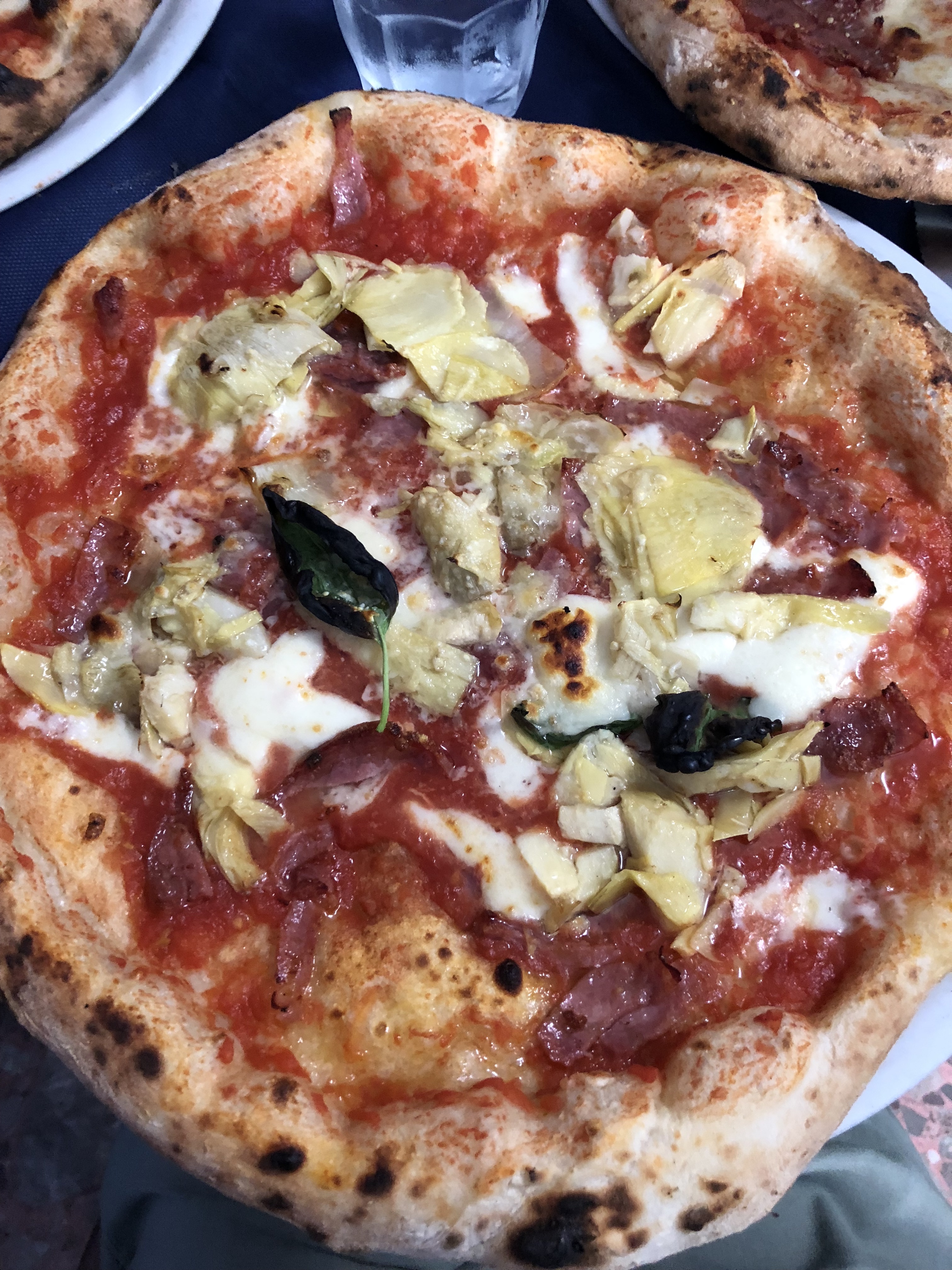 The next day, we were flying down to Sicily in the afternoon, but before we left, we wanted to try the pizza place that was featured in Eat, Pray, Love - L'Antica Pizzeria Da Michele. Since the book is so popular, there is often a long line to get in, so we went an hour before opening with our big bags, as it was just around the corner from our Airbnb, and we were second in line! To kill time, we played some cards while we waited, until we were finally let in at 11am. They only have three types of pizza here, marinara, margherita, and margherita with extra mozzarella, each coming in different sizes, and with prices that are just 3.50-5 euros. I split the marinara and marcherita with extra mozzarella with my friend, and it was really tasty, a very healthy breakfast indeed. At this place, there isn't a service fee, so at the end the servers will bug you for a tip if you don't leave one, which is a little off-putting. But the pizza was great, and definitely worth the wait!
I really enjoyed visiting Campania, it's a really beautiful region, although I didn't get to see a lot of Naples. I've always enjoyed nature and beaches more than cities though, so I think that if I were to come back, I would spend more time in the Amalfi coast and maybe stay in Amalfi or Positano instead of Sorrento. I also really want to check out Capri, the island off of Positano, and lay around on the beach next time.