Earlier this summer, at the end of June/early July, I visited Guangzhou (my family's hometown), Hong Kong, and Korea with my boyfriend! The whole trip was around 2.5 weeks, 3 nights in Guangzhou, 3 nights in Hong Kong, and then 10 nights in Korea. We actually flew into Hong Kong first, and we were planning on taking a ferry directly from the airport to Guangzhou, but unfortunately my boyfriend's flight was delayed, so we missed the ferry and stayed in Hong Kong for a night instead, before taking the bus to Guangzhou the next morning.
Guangzhou
In Guangzhou, we stayed at my grandparents, and didn't do much other than hang out with my family, it was soooo hot when we were there, temperature in the mid-30s, plus super humid. One thing we did was go on a boat cruise along the Pearl river, and checked out the newer part of town, with all the skyscrapers.
I also obviously ate a lot, a mix of restaurants and delicious home cooked food. Btw, if you're ever in China, especially Guangzhou, definitely check out Hey Tea for bubble tea - when they first opened up in Guangzhou, there were ridiculous lines to get their bubble tea, and maybe its not worth an hour in line but it is really delicious! I recommend anything with cheese foam :D
Hong Kong
Since we had stayed in Hong Kong one night because of the flight delays, we stayed in Guangzhou for an extra day, and shortened our stay in Hong Kong by one night. We still had 3 days and 3 nights to explore Hong Kong though! We took the bus from Guangzhou to Sheung Wan on Hong Kong Island, which was pretty convenient. We stayed at one of the ibis hotels, which was a decently affordable option on Hong Kong island, and close to public transit. When we arrived in Hong Kong, it was evening, so we settled into our hotel and then got some dinner right away. We went to Tsuta, which is a restaurant that is originally from Japan and opened up a location in Hong Kong, and was actually the first Michelin-starred ramen restaurant.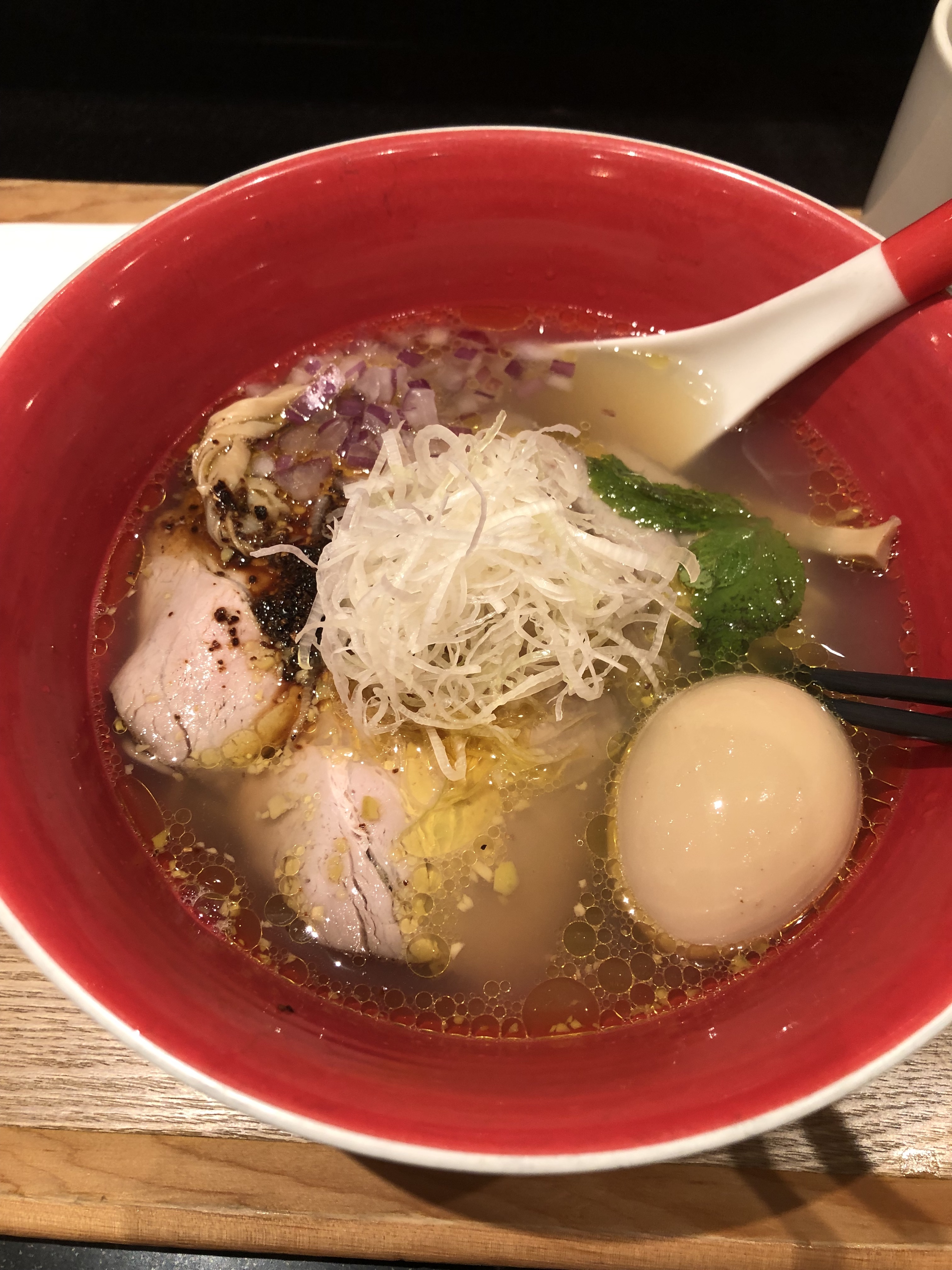 We definitely slept in a little, but when we did get up, we got some dim sum from Tim Ho Wan, which is famous for their pineapple bbq pork buns. They have a few locations around Hong Kong, and one of them is Michelin starred, but we went to one in the Central train station to avoid lines.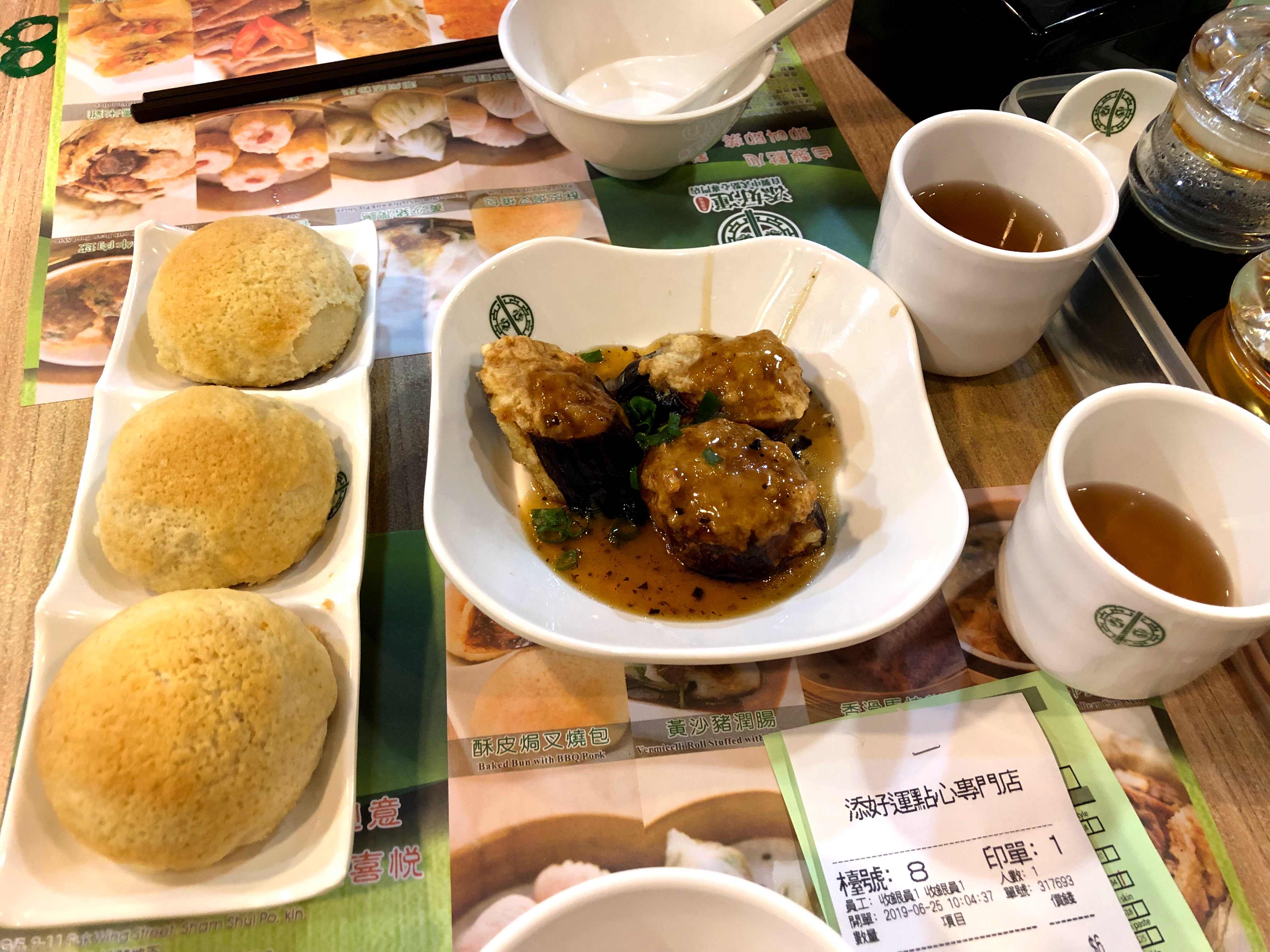 After that, we we visited the Ten Thousand Buddhas Monastery, which is very accessible on public transit, and a short uphill climb to the top. I don't know if there are actually ten thousand Buddhas, but there are definitely a LOT.
Afterwards, we went to Sham Shui Po because I wanted to get some cheung fan from Hop Yik Tai. Unfortunately the weather wasn't really great for our day of exploring Hong Kong. We wanted to check out some of the markets, and get some more tasty street food, but as we got out of the subway stop, it was pouring so we had to try and find shelter during the heavier rain (so I shopped in an H&M instead). We did manage to get some tasty squid skewers from a little street food stall though, yum!
When the rain subsided, we walked to the Avenue of Stars, where there is a great view of the skyscrapers on Hong Kong island.

However, the main reason we were in the area was to get some Ichiran! Now, if you can't tell, me and my boyfriend love ramen, so even though there is definitely plenty of delicious Chinese food to be eaten in Hong Kong, we wanted to take advantage of the international food options in Hong Kong as well. Anyway, Ichiran was delicious, and I can't wait to go to Japan some day and try even more ramen!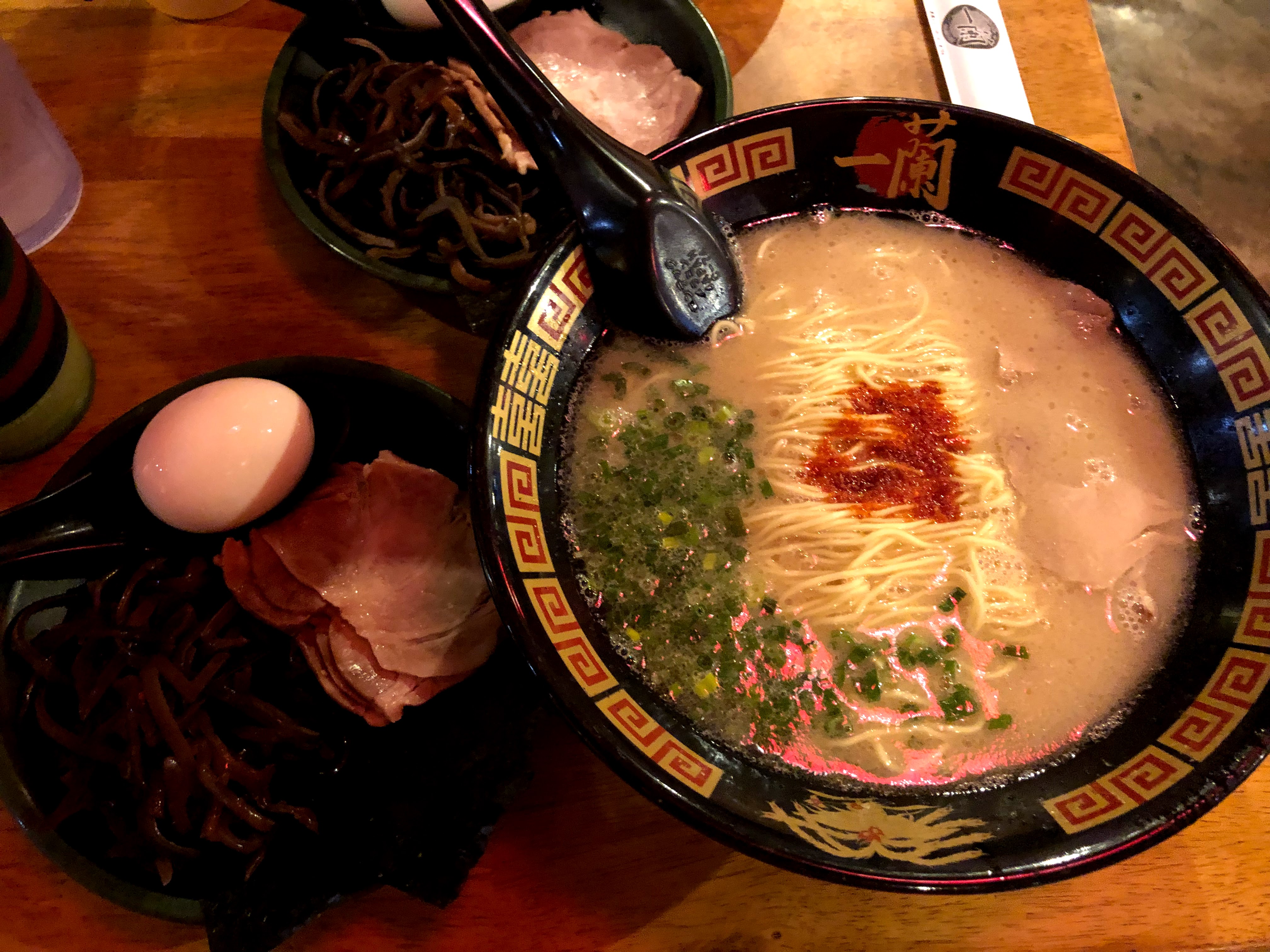 The next day, our plan was to hike the Dragon's Back Trail on Hong Kong island. It's easy to get here using the metro and buses, and actually there's a bus that will take you to the start of the trail if you get off the metro at Shau Kei Waan Station and take Bus #9 towards Shek O. Unfortunately, I did not read the instructions clearly, and instead got off the metro at Chai Wan station, where you have to walk uphill in the insane heat to get to the start of the hike. If you ever do this hike, take the route where the bus takes you to the start!! Unfortunately, since we had the extra uphill hike to the start of the hike, we were actually low on water before we started the hike since it was so hot, so we didn't walk the whole thing unfortunately. I would have really loved to seen the view from the top of the Dragon's Back, but I can go again another time (hopefully when it's not as hot). Also, hopefully when there aren't giant spiders everywhere!
As soon as we saw civilization again, we chugged some liquids and got ourselves some food. And then promptly headed back to our hotel for a short nap before dinner! One of my friends just happened to be working in Hong Kong for a bit, so we decided to meet him for dinner at Kam's Roast Goose, which is another Michelin-starred restaurant! We had the roast goose obviously, as well as a couple other roast meats, and it was really really delicious, I'm drooling thinking about it again.
Afterwards, we headed to Victoria Peak to check out the iconic Hong Kong view. After our miserable hike earlier in the day, we decided to just take a cab there lol, and got some ice cream at the top as we took in the light-filled view from the top.

We were quite lucky with our timing in Hong Kong, there were huge protests that had been pretty intense a couple weeks before we were here, and then a couple weeks after they got violent, so I guess we were just lucky enough to visit during a peaceful period, and only really saw some police gathering in a couple spots.
This marked our last night in Hong Kong, and we flew out to Seoul the following day!