Athens
From Sicily, we flew on to Athens, the start of our visit to our 3rd country! We were spending one night in Athens before heading off to Crete. We landed in Crete in the late afternoon / early evening, so by the time we made it to our Airbnb from the airport, it was time for dinner! We were really looking forward to some fresh Greek food after all of the heavy carbs we were eating in Italy. On our way to dinner, we stumbled by Areopagus by chance - just in time to catch the sunset over Athens! It was a little overcast but still a great view!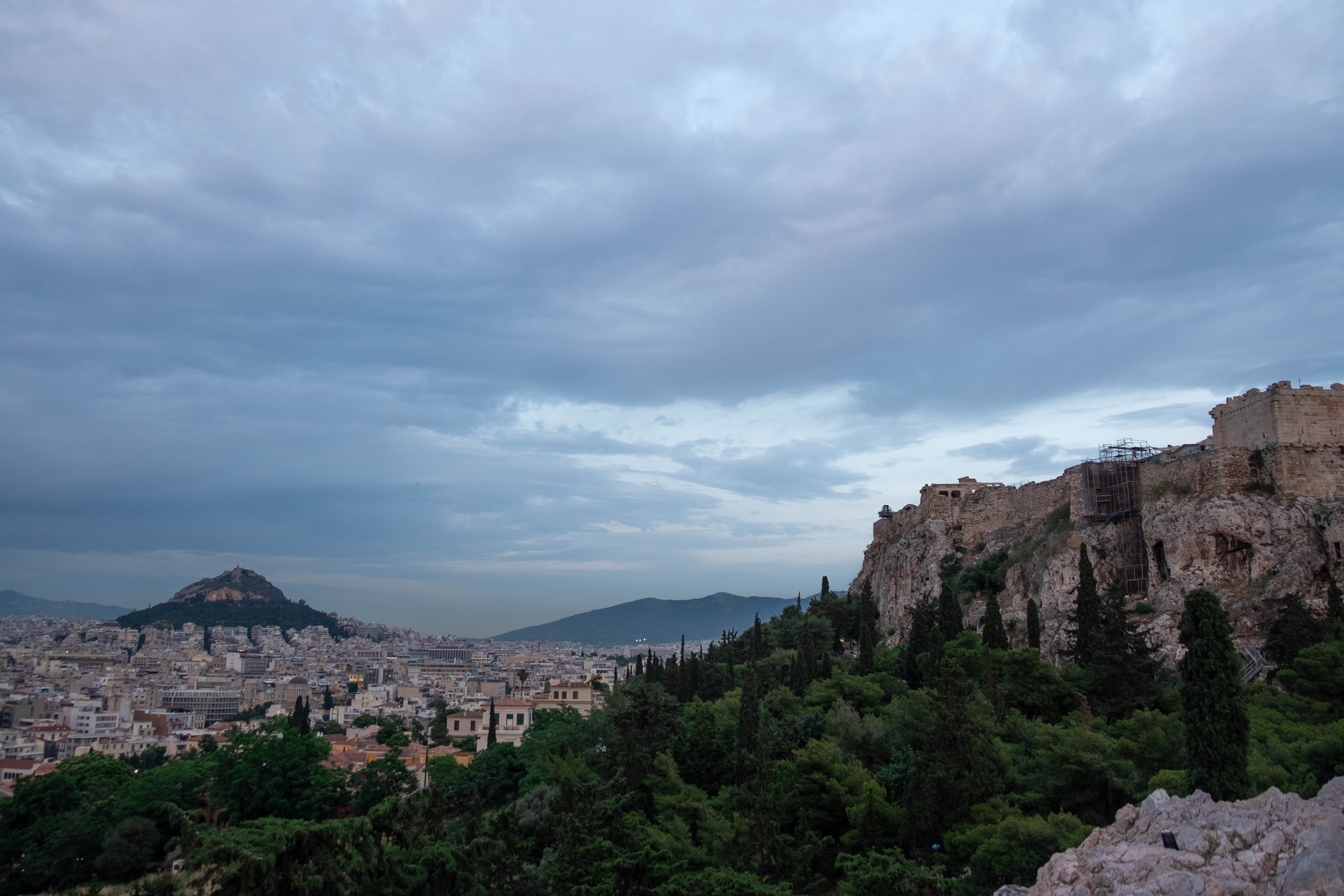 Crete
Early the next day, we had a short flight on a very small plane to Crete. When we arrived, we were planning on renting a car, but we found out that they had just implemented a new rule where you could only rent a car with an international driver's license! Unfortunately, we couldn't rent a car (legally, anyway), so we had to bus around Crete instead, which ended up working out well for us. We took a bus to the bus stop in the centre of Chania, where our Airbnb host met us to take us to our apartment. The apartment was situated in a lovely spot, just a block away from the beach! Along the coast of Chania, there were 5 beaches that you could walk to, full of white sand and shallow, warm water. Of course, the first thing that we wanted to do was eat - our host gave us some recommendations close to the apartment and we were on our way! We ate at a place called Portes, in the pictures below we had some fried calamari, as well as a lamb dish. They also gave us a small complimentary dessert at the end, which is apparently quite common in Greece.
After the late lunch, I headed out to explore the old town a bit - we walked along the shore to the Venetian harbour, and caught the sun setting over the water. Afterwards, we went back to our Airbnb to settle in and prepare for our hike the next day.

Hiking the Samaria Gorge
The next day we got up bright and early to catch the bus to the beginning of the Samaria Gorge trail. They call this hike the Yosemite of Greece! There are a couple of buses that leave in the morning, they have bus schedules at the bus station that you can check the day before, and you can buy the tickets the day of. The bus takes you up through the mountains, and you are walking down towards the gorge for most of the trail - it is not an uphill hike (thank goodness haha). The hike is full of rocks though, so you have to be careful. I tripped on a rock and rolled my bad ankle while I was hiking down, luckily my friends had picked up a hiking stick for me so I used that the remainder of the hike, and put on my ankle brace. Honestly, the hike was quite crowded, there are a lot of tour buses and if you arrive with a bus, you're just following people the whole way so it isn't very peaceful and secluded, unfortunately. The hike itself is very nice though, with lots of beautiful scenery, and the gorge itself is really cool.
The hike is 16km to get to the end, it took us close to 6 hours to complete it. It ends at a little town called Agia Roumeli, which has a small little rock beach to relax at while waiting for the ferry. The ferry took us to Hora Sfakion, and from there we took a bus back to Chania. It is quite a long day, I think we were up before 7 to get ready and catch the bus to the beginning of the hike, and we got back in the evening around 7 or 8. I was definitely exhausted (and probably a little dehydrated) by the time we got onto the bus back to Chania, but the hike was really nice, and it was good practice for our longer hikes in Norway. By the time we got back to the city, I was definitely starving. We found a cute little gyro place close to our Airbnb called Mythos Cafe Souvlaki, that was also super cheap with a really nice owner!
Elafonisi beach
After our long hike the day before, we were planning on having a relaxing beach day. In Chania, there are actually 5 beaches connected to each other, apparently each one is nicer than the other the further you go! But we wanted something a little more exciting, and decided to take a bus out to go to Elafonisi beach - which is supposed to have pink sand! But when we got there, most of the sand actually wasn't that pink, which was kind of disappointing. I was imagining the whole beach to be pink, but it was actually mostly white with a bit of pink in certain spots. Apparently tourists had been collecting all the pink sand, which is why there didn't seem to be a lot of pink sand... not sure if that's true or not though! Either way, it was still a nice beach, and it was nice to relax and waddle around in the water.
After taking the bus back to Chania, our lovely Airbnb hosts brought us our bags at the bus station, where we had a quick dinner before catching our bus to Heraklion, where we were staying for one night before catching our ferry to Santorini the next morning. We had the loveliest Airbnb hosts, who were very accommodating and helpful when we weren't able to get our car rental, and wouldn't even accept any tips from us. If they're still doing Airbnb, I highly recommend their place linked here, or any of the host's other places - it was very clean and spacious, in a really convenient spot, and the hosts were just really nice people.