I was in Croatia from May 26 - June 2, 2018, visiting Split, Hvar and Dubrovnik. We flew into Dubrovnik from Athens, and headed to the bus stop to buy tickets to go to Split. Unfortunately, there weren't any available right away so we had to catch the next one a few hours later. To kill time, we found a restaurant close by. I remember that while we were there, it as boiling hot, so walking around with our large bags was a little painful, but it was alright because we didn't have to go too far. Eventually, we made it onto the bus from Dubrovnik to Split, which took almost 5 hours. The bus ride was pretty scenic, but unfortunately it was difficult to get good shots of the scenery while on a moving vehicle. When we arrived in Split, I went to meet up with my parents who had planned a 2 week trip around Croatia. They had started out in Zagreb, and we had planned to meet in Split to spend the Croatia part of my trip together! As it was late, we headed back to the hotel where they had kindly saved me some leftovers from their dinner, and then I went to bed to get ready for a busy day the next day!
Split
In Split, I explored the city with my parents, just doing classic tourist-y stuff. It was hot in Split, but not unbearable. We started off the day by checking out the Old Town in Split, which is behind some old walls where cars can't enter, and there are 4 gates in and out of the Old Town. It is actually super cool and well preserved, although it was super crowded when we were there. We were also able to catch some kind of performance or ceremony at the Saint Domnius Cathedral courtyard, although it was so crowded I had no idea what was going on. I was able to go up the Cathedral as well, and get some nice shots of the city.

After exploring the old town, we walked around the city a bit, hung out by the water/boardwalk, had some lunch, and then checked out Marjan Hill, which had some nice views of the city from a different angle. We had dinner at a seafood place in the city, but I didn't think it was that great, probably just a tourist trap.
Krka National Park
My parents had rented a car to travel around Croatia, so we drove to Krka National Park from Split, which was approx. 1 hour. I would have loved to go to Plitvice Lakes, but it was further away, and my parents had already gone. I hope I will get to go there some day still, I would love to see it if it is as beautiful as Krka was! The park is pretty large, so we took our time exploring and eating some packed lunches. The water and waterfalls are so nice, I wish I could have gone swimming, but the water wasn't open to visitors yet, but it is later in the summer (I think in June, which we missed by a few days, unfortunately). I will let the pictures speak for themselves here!

When we got back to the city, I ate a a place called Villa Spiza, just outside the Old Town, which I really recommend, it was delicious! They have a different menu every day, and cook using local, fresh ingredients right in front of you, as well as is a very good price. It is pretty small and cozy, so there is usually a wait to be seated. I had squid ink risotto, which is supposed to be a specialty of the area, and a pork truffle pasta. Unfortunately, I don't have any pictures because I was too busy eating, but trust me, it was delicious, and it is definitely worth the wait.
Hvar
From Split, we took a ferry to Hvar, where we were staying for the next couple days. We stayed in Milna on Hvar, which is a tiny little tourist town with three small beaches. We were here just before the high tourist season, which starts in June, which was actually perfect timing since the weather was perfect, but we didn't have to book restaurants or anything in advance. Milna is a really small town, and you can walk across the whole town in like 15min. It is slightly inconvenient to get around Hvar without a car though, the buses don't run very frequently, but there are taxis. Our time in Milna was super relaxing, we were there for a total of 2 nights, where we mostly just swam and hung out in the beach, went kayaking, and ate delicious seafood.
Speaking of food, if you're ever in Milna, I highly recommend Moli Onte and trying their fish dish. They cook fresh fish caught from the sea with potatoes, onions, tomatoes, and lots of oil so it comes out super crispy and soo delicious! Their restaurant is right by the sea as well, so you can eat outside and enjoy the ocean breeze! Another restaurant we went to that was really good was Konoba Lambik, which had more meat dishes, and was also super tasty!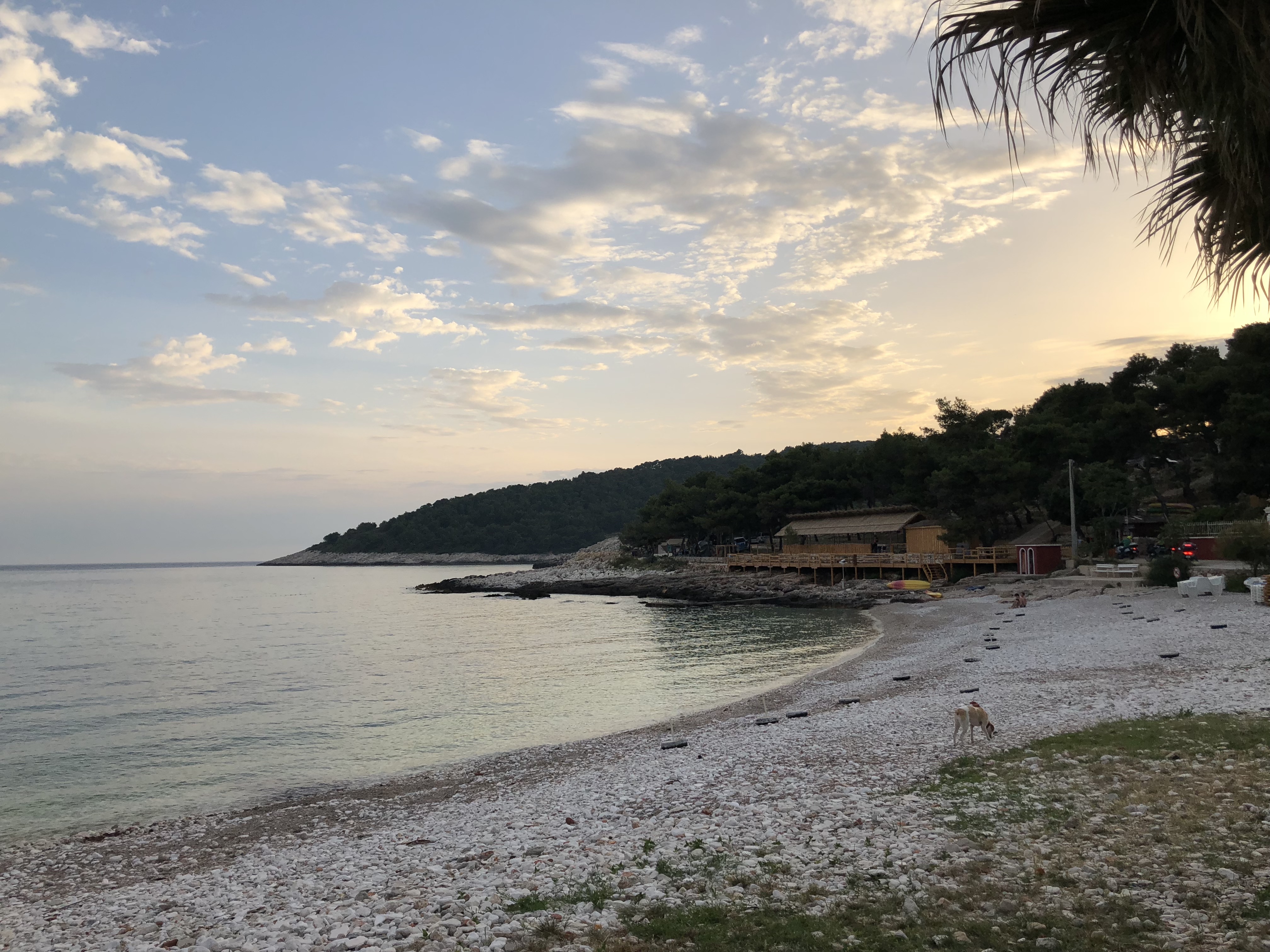 We also spent half a day exploring the main city of Hvar, which you can catch a bus to from Milna if you don't have a car. Or walk, which takes like an hour, and is along the main road so it probably isn't super safe. Hvar is a cute little Croatian town with the classic red rooftops, and narrow stone alleyways. There are also lots of stairs, since it is kind of on a hill where there is a big fortress (Tvrđava Fortica / Spanish Fortress) that you can walk up to. You can go most of the way to the top without having to pay an entrance fee, but to go inside and to the very top of the fortress, you will have to pay entry. There is a great view of the city from here even without going into the fortress, so I recommend checking it out if you're ever in Hvar!
Honestly, I think that Hvar and Milna is such a nice place to relax, it would be a really nice place to take a week off and have a nice beach vacation. If you do so - I really recommend the end of May, before the high tourist season starts, as hotel prices are also cheaper at this time. Unfortunately, we were only here for a couple days before moving on to our next stop - Dubrovnik! From Hvar, we drove to the other end of the island, to Sućaraj, so that we could take a ferry to Drevnik, in the mainland part of Croatia. From there, we drove the rest of the way to Dubrovnik, which included driving through Bosnia for a short bit, since Croatia's coastline is split up by Bosnia for a few kilometres.
Dubrovnik
We arrived in Dubrovnik in the late afternoon, which gave us some time to get settled into our Airbnb before heading out to dinner. Since I was traveling with my parents, I had booked us a table at Nautika to celebrate Mother's Day. Honestly, the experience was really incredible. The restaurant is located just outside of the Dubrovnik old town walls, and has a beautiful ocean view. We were seated at one of the upstairs balconies, and had a great view of the ocean and the sunset! The food was also super tasty - we ordered a few appetizers to share, before getting our mains. I probably should have ordered seafood, but I wasn't really feeling it that day. We also ordered a bottle of wine to share at the table. The service at this restaurant was also really great, they accidentally brought out a dish that we hadn't ordered, and they let us keep that one as well as bringing out the correct dish, as well as gave us a free bottle of wine, which was super lovely as the wine and food here was quite pricey. I really do recommend coming here, for the view and food and service, although maybe as a special occasion and not just for a casual dinner since it is definitely a little expensive.
The next day, we were going to check out the walls around the old town! You can walk around all of the walls surrounding the main old town, which is super cool. You can buy these tickets that let you go on the walls, as well as into the Lovrijenac fortress. Dubrovnik is so beautiful and cool, surrounded by ocean and these fortress walls. It's also super crowded, as cruise ships visit during the day, and it's become a super touristy spot because of Game of Thrones being filmed there as well. I went in the morning, but I think I should have gone earlier to try and avoid the crowds, and the heat! It is super hot up on the walls with the sun beating down, and no shade to hide under. With all the water nearby, I just really wanted to jump in from the cliff walls.

After checking out the Old Town walls, we walked around the inside of the Old Town (and got some ice cream). Afterwards, we headed to a beach just outside the Old Town and spent the rest of the afternoon hanging out there, where we did some swimming and kayaking.
The next morning, we went to check out the Srd hill in the morning for a nice view of the town from above. You can walk up the whole way, but since it was really hot (30+ degrees Celcius), we actually just took a cab up instead, which is pretty convenient. I think you can also take a cable car up too. It would have been super nice to watch the sunset from up here, which is what I think a lot of people do, maybe next time I visit Croatia! After that, we went to check out the Lovrijenac fortress, which was included in the tickets we had bought to see the Old Town walls. At the fortress, you can see a beautiful view of the Old Town, and Game of Thrones filmed here as well - it was the Red Keep!
And of course, some Game of Throne pics!
This concludes my time in Croatia - that evening, we headed to the airport in Dubrovnik to catch a late evening flight to Bergen, Norway! Croatia is a really really beautiful country, I really hope to return some day to visit some less travelled parts, as well as other touristy spots that I didn't go to this time like Plitvice Lakes.