From Seoul, we took the fast train to Busan in the morning, and it only took around 3 hours. Accomodation in Busan is way cheaper than Seoul, so we had a nice room in a hotel instead of a tiny little room like we had in Seoul. We were able to check in early before heading off to explore Busan! We had 2 nights planned in Busan, since it's smaller than Seoul, we didn't think we would need as much time. The first thing we did after settling in was head to the fish market in Busan, Jagalchi market, for some lunch! There are many restaurants in the upper level of the market - however I actually found that it was kind of overpriced and maybe a bit of a tourist trap. The food was good, but was not as good as my expectations.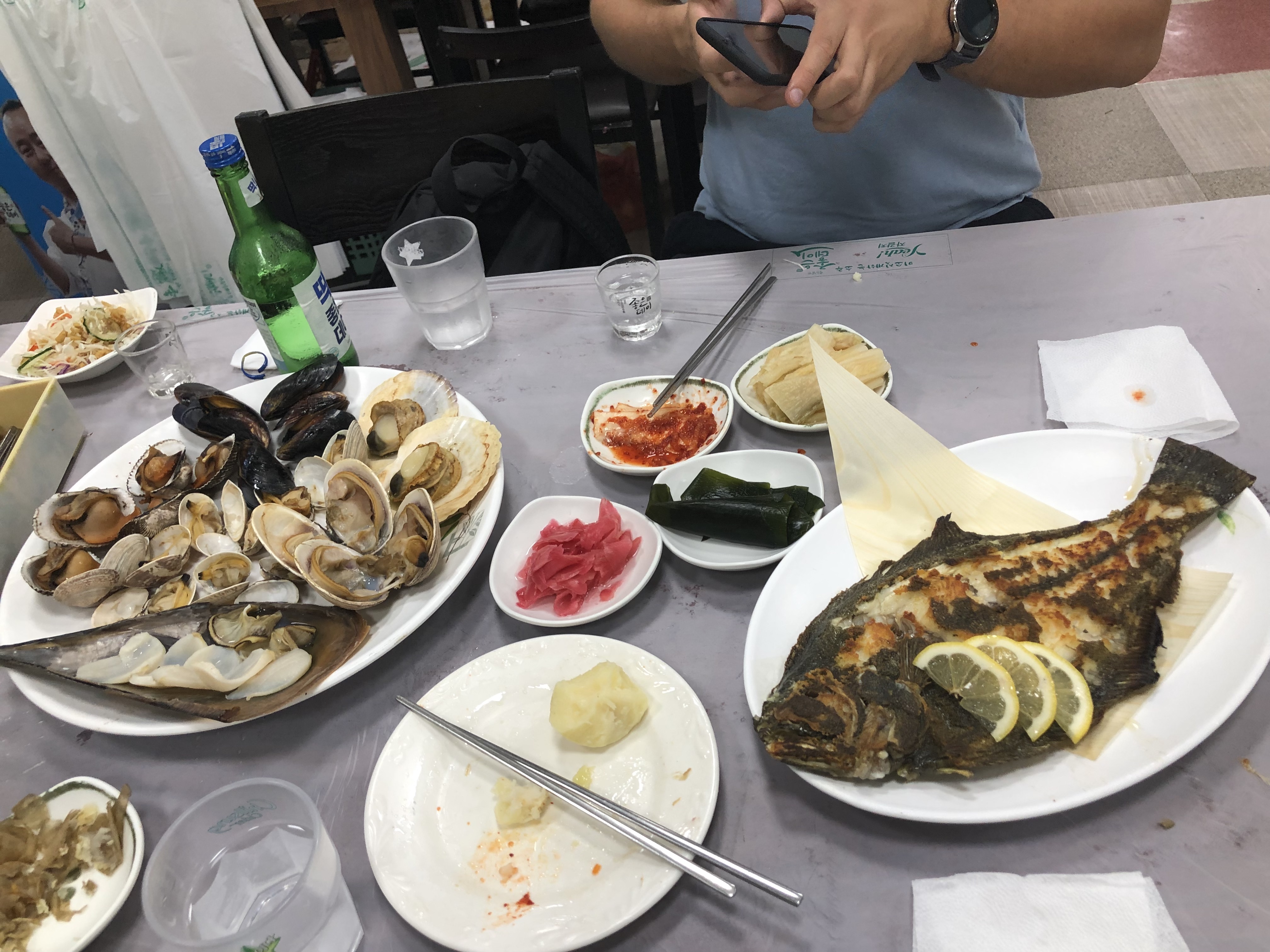 Afterwards, we decided to walk up to Gamcheon Culture Village, which was definitely a mistake because it was just an uphill walk the whole way. I guess it's good exercise... anyway, the village is super cute and has some great views! They call it Korea's Cinque Terre, since it has many colourful buildings, similar to the cute towns in Italy!

After exhausting ourselves walking around, we decided to take the bus back into town instead of walking again. Busan is actually pretty spread out, and I think it's really cool with the cute little Gamcheon village, as well as taller buildings, and it also has lots of beaches! Anyway, after resting a bit, we got some dinner at some small little place close to our hotel that had these little squid - English is not as well known in Busan, but we managed to order food with the help of Google Translate to read some signs, and some pointing. I have no idea what the restaurant was called, but I found it on Google here, and I really recommend it! The service was really good even with the language barrier, and the food was delicious! Of course, we had some bingsu afterwards! :D
The next day, we visited Haedong Yonggungsa, which is a beautiful Buddhist temple by thea. It's a little out of the way, so we took a cab to get there - it's definitely worth the trip, the temple and grounds are beautiful.
Afterwards, we stopped by a small little town close by to eat some delicious seafood by the sea! I also have no idea what this place is called, but it's on Google here. We went after peak hours, so we were pretty much the only people in the restaurant, which is a little old looking but has a nice view of the sea. The guy working there didn't speak much English either, but he had an English menu so we were able to order, and he was so nice and the seafood was super fresh, so I really recommend this place!
On our way back into the central city, we stopped at Haeundae Beach to relax a little, and to have some mroe bingsu! We also went to one of the giant malls in Busan, but just to browse as I was running low on space in my suitcase...
On our final day in Busan, we went to Taejongdae Resort Park in the morning before heading to the airport to go to Jeju Island. We took a cab here since we were kind of in a rush (btw, I think the cab drivers in Korea are crazy - they speed like mad!). There are supposed to be beautiful cliffside views, but unfortunately it was super foggy, which can happen since it's by the sea, so we couldn't see much :( There was also a flower festival going on at the park, which was really beautiful, but also super crowded.
Anyway, I think Busan is a really cool city, and I would love to come back again. The nature around the city is really beautiful, it's too bad the weather wasn't great while we were here. In the afternoon, we headed to the airport to fly to Jeju Island, which you can read about in my next post!